Some of you may remember my
blog
from a few months back. I was half way into my training for the Bristol 10k – 6 weeks in and I had managed to run half the distance, despite enduring some pain and shedding a few tears.
I am no runner but I wanted to get fit, so I signed up to the race and decided to run in support of a charity close to my heart, which gave me the motivation to persevere.
Some days I could run for ages and on others I couldn't run half a mile without stopping for a breather. These setbacks were upsetting but I learned to just stick with it and keep going, as I knew it was doing me good. One Sunday I asked a friend to run with me, and I really struggled, because I was used to running listening to music and I had to keep asking her to stop talking to me. But 56 minutes later we had run 4.56 miles and I realised that chatting with her had actually helped the time go faster and was really rather enjoyable.
Another 4 weeks passed and I was disappointed that I still hadn't managed to run further than 5 miles. Then on Mothers' Day, my girls treated me to a healthy breakfast of scrambled eggs on wholegrain toast and I was granted some time off just for myself, so I left the house and I ran for 6.40 MILES - 10k and some!
Between then and the end of April I wasn't able to repeat this achievement, as my life is so jam packed and I'm often exhausted by the end of the day. But I did enjoy getting my daughter involved, and she even ran 4 miles with me and encouraged me to do my fastest time yet.
Thankfully, the weekend before the race I did manage to run 10k again, only this time I ran 6.92 miles without stopping! Lots of people boosted my confidence and encouraged me by telling me about the amazing atmosphere on race day and how fellow runners set the pace and make you run faster.
Race Day…
I was up at the crack of dawn, ate my magic scrambled eggs, put on my race T shirt and made my way to the start line, sick with nerves and apprehension. But it was too late; at 9.54am the horn went and I was on my way.
I ran the first 5k faster than I had run in the 16 weeks of training, but after this point my legs became really sore and the sun started bearing down, which slowed my pace and drained my energy. But still I made myself keep running, even up the hill towards the end. I felt boiling hot and nauseous but I pushed myself with everything in me to keep going, desperate to see my family waiting near the finish line.
A friend and fellow runner met me at the line. I sobbed like a baby when I reached her – I had successfully run the Bristol 10K! Not only that, given the speedy first half, overall I achieved a personal best of 1 hour 12 minutes. I know that's pretty slow, but blooming heck, I ran 10k! I also raised a whopping £800 for my charity.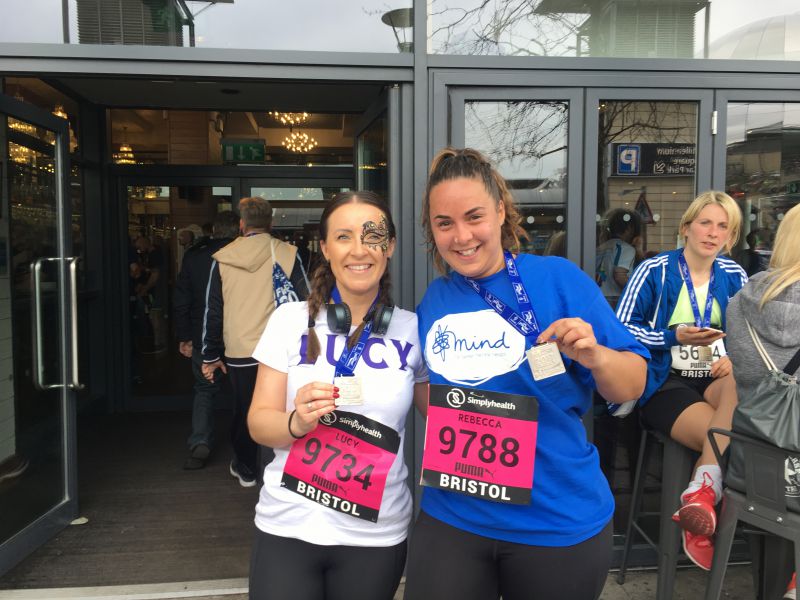 Yes, it was torture pushing myself to train, and I don't think I will ever actually really enjoy running, but the satisfaction in achieving a personal goal is absolutely incredible. And yes, I am going to be crazy enough to run the race again - to keep up my fitness (I don't like it enough to do it for fun) and in a bid to achieve a new 'official' personal best – it does become addictive!
Not only that, running has allowed me to feel better about myself. On the days I ran when I was feeling stressed or run down, for that short time I was out, my mind was clear and free. All I was thinking about was putting one foot in front the other. I have to say I would recommend running to everyone that can!
My top tips to help you start running are:
• Sign up to a race and if that's not sufficiently motivating, run for a worthwhile charity.
• Find and download a running app that is simple and easy to understand.
• Invest in a
decent pair of running shoes
• Get a good sports bra (girls only, obviously).
• Download some of your favourite songs – I had 'Keep On Running' dropped in a few times, to keep me going.
• Set small goals when you start out – run for half a mile/ 10 minutes etc.
• Avoid running in hot sun - early mornings or evenings worked best for me.
• Keep going, because you will get better!
• Try and enjoy it; if nothing else you are getting your body fit and strong.