Fitness4Less has come up with a new challenge, which will encourage you to join other club members in focusing on your fitness, and which will prove rewarding in more ways than one. If you sign up to the "Join, Like, Learn Journey", you will receive a loyalty card, listing seven fun challenges to be achieved before the journey's end, where a small prize awaits you. These tasks include: -
1. Attending the gym three times within a given week.
2. Taking a thumbs-up selfie with a member of the Fitness4Less team and posting it on Facebook.
3. Bringing a friend or relative to the gym and trying out a partner workout
4. Booking into a workshop and trying an exercise technique you've never attempted before.
5. Booking a free taster session with one of our Personal Trainers by contacting them through the Training tab on our website –
Personal Training
6. Joining a class that you haven't tried before from the dozens we have on offer.
7. Trying a new healthy eating recipe from our Blog page or sharing a new one with us on Facebook.
On completing each task, you should get your loyalty card stamped by a member of staff. After completing all seven tasks, you can collect the prize of a free Fitness4Less branded Fruit-Infuser water bottle from the team. You can also bask in the warm glow of feeling fitter, more energized, more knowledgeable about fitness techniques and healthy eating, more engaged with other club members, and glad that you have introduced friends and family to the joys of getting fit and healthy – a great reward in itself!
The Join, Like, Learn challenge culminates on the weekend of 24th/25th June, when there will be a company-wide Open Weekend event with special offers, trial classes and other activities for you and your friends and family to take advantage of. On that weekend, all completed loyalty cards will be entered in a prize draw and one lucky winner from each club will be treated to a great new pair of trainers!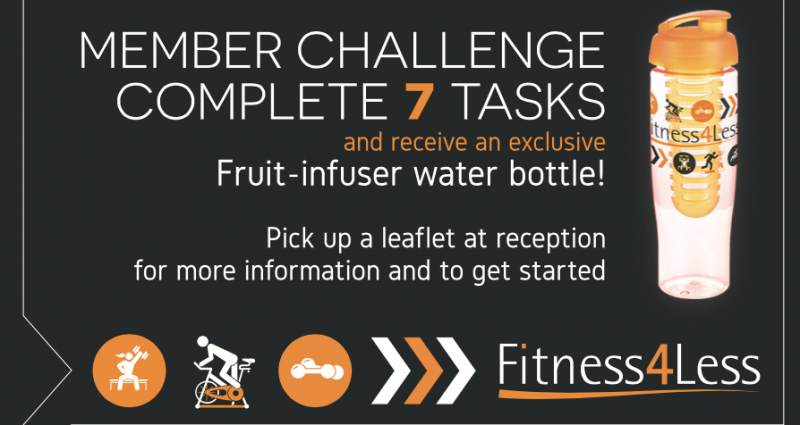 So why not ask a member of the Fitness4Less team for your own loyalty card and start on that Join, Like, Learn journey today? We promise you won't regret it, and we'll be with you all the way with tips, encouragement, and stories about members' progress from all our Fitness4Less family of gyms.