It is likely that many of you will not have skipped since the school playground, but fear not… skipping is a great cardiovascular exercise to get you heart and lungs working and is a bit like riding a bike; once you start, it doesn't take long to remember what you have to do. It only requires a rope and you can skip at the gym or at home or in the park. It is a cheap and easy cardiovascular exercise to get you moving!
The benefits of skipping are numerous…
-The effort it takes to jump rope for 10 minutes is the equivalent of running a mile in eight minutes
-According to the British Rope Skipping Association, 10 minutes of skipping can have the same health benefits as a 45 minute run.
-Skipping is a full body workout which uses your abdominals to stabilise the body, legs for jumping, shoulders and arms for turning the rope.
-Skipping is less jolting on your joints than running.
-It is a good workout for all fitness levels, as you can do it at a pace that suits you.
-Skipping can help you improve your flexibility, coordination and balance.
-Regular skipping improves muscle tone in both the lower and upper body.
-Skipping is a weight bearing exercise, so can help in improving bone density, thus helping stave off osteoporosis.
If you aren't sure what to do with your rope – here are 4 exercises to help you get started.
Exercise 1
Rope swing transformation -
A rope swing transformation is a good practice exercise to get your timing right for skipping. Swing the rope from side to side, and time your jumps to get used to the rhythm of the rope and jumping at the right speed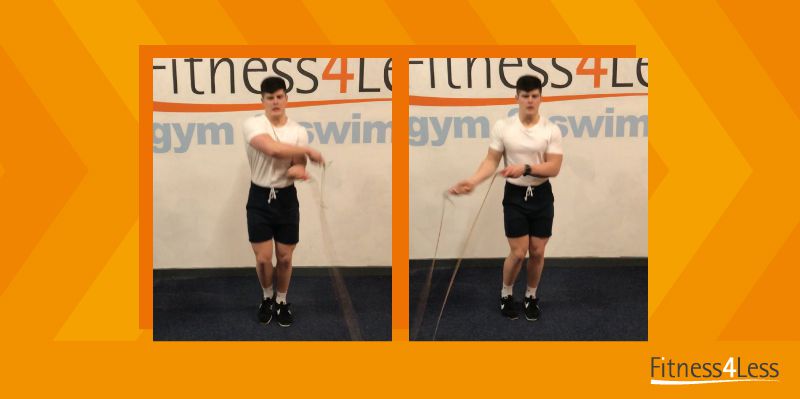 Exercise 2
Knee raises - These are good for the core and a high cardiovascular workout. Raise your knee up in front of your body on each skip. This technique can be tiring, so try it for a few a seconds and then resume your normal skipping movement. You will have to practise the high knees technique for a while, to master how to control the pace that you swing the skipping rope.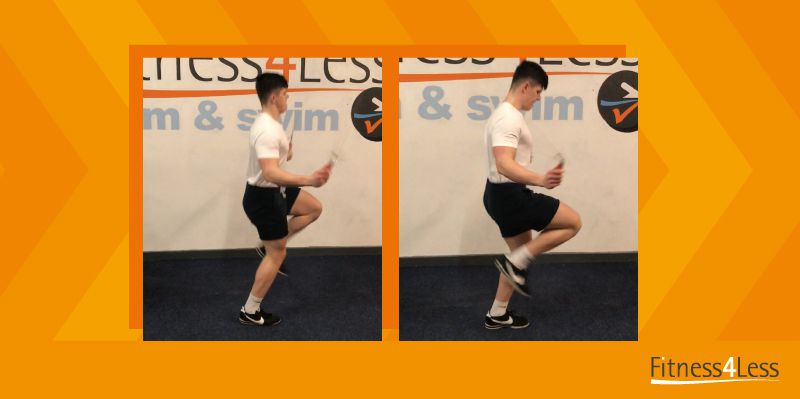 Exercise 3
Rope criss-cross – This is a more difficult skip that will improve agility and co-ordination. It requires timing and co-ordination between your hands and feet. Before each jump, you have to bring your left hand to your right side and your right hand to your left side so that your arms are crossed. After you've made the first jump, then you resume your normal hand positioning ready for the next jump.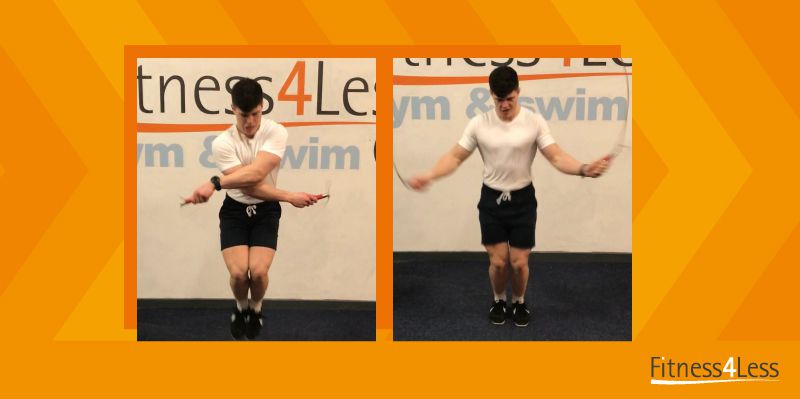 Exercise 4
Bottom kickers - These require you to bring the heel back up to your bottom as you are skipping. This is a high cardio, advanced skipping technique, but great to add into your routine. You may want to slowly incorporate these into your routine or even add a few into your routine and then return to your normal skipping technique.
So, if you are looking for an exercise you can do easily anywhere to get your heart and lungs working and to tone your upper and lower body muscles - skipping is a great option!
This blog was contributed by Fitness4Less Manager Dan Hill and his gym team at our Northampton club.