We are nearing the end of our fitness tracker road test challenge and we wanted to know how our testers have found the use of the tracker in the gym, has it encouraged them to attend more frequently or try any new classes or activities. Read on to find out more.
Peter testing out the Withings Pulse Ox tracker.
The biggest piece of advice I'd give to someone going out to buy a gadget to help them with their exercise programme is to find one that records as much of the relevant data as possible automatically. Pulse Ox is a lot of fun, but it really hasn't made any difference to my use of the gym because I don't actually run or walk much when I'm there.
My gym workout now mainly consists of weights to build up strength, with a little high intensity cv on the rowing machine at the end. Pulse Ox doesn't record any of this automatically. I could enter it all manually, but it's just too much of a chore to be honest. My cv work, which Pulse Ox does record, is done outside.
Don't expect a fitness tracker to be a substitute for your own motivation. Yes the tracker and the associated apps remind me to exercise, but in the end it's down to me to get out and do it. Pulse Ox produces weekly reports to show me what it thinks I've done, but because the device doesn't record everything, and does record a lot of activity that I don't really count as exercise, they are actually of fairly limited use.
Jessica testing out the Sony Smartband 2


Summer has finally hit the UK. So that means I have a cold, ugh. The lurghy has really impacted my ability to exercise, as the last thing I want to do is drag myself to the gym. It's hot outside, there are people, and not enough Kleenex. Sitting on the table by my sick-bed, my fitness tracker taunts me. OK, that's probably melodramatic. A more positive way to frame it: seeing my tracker reminds me of how active I could be, should be, if only I could make it out of bed. That's actually been quite motivating, at least before the serious sickness set in. Before having the tracker, I would probably not have thought about the gym in times like this – too busy blowing my nose and coughing, frankly. This time, though, the tracker spurred me on to head to the gym for a few gentle sessions, which can only be a good thing. I've not hit my daily step targets this week, but I have done more exercise than I would have done without the tracker. I am always suspicious of the accuracy of the read-outs on cardio machines. I've definitely enjoyed a feeling of getting the "real" picture on how far I've run (or slowly jogged, let's face it) when wearing the tracker. Sadly, the SmartBand 2's problems that I've talked about before haven't been resolved. I have to rely on the heart-rate sensors on cardio machines to see my exertion, and on gut-feel (or heart-feel?) for how hard to push it when lifting free weights.
Keelan testing out the Garmin Vivofit 2
So, my fitness tracker review has ended unexpectedly early due to an urgent shoulder operation that is going to rule me out of any significant physical activity for several weeks. Perhaps longer. I do plan on using the device for my rehabilitation from surgery and am most likely to use it in the swimming pool - yes it is water resistant! - to time my swims as well as my lopsided runs.
We wish Keelan a speedy recovery.

Emma testing out the Jawbone Up2
I have found that although the tracker doesn't measure anything that I would find useful when exercising in the gym, it has made me more conscious of the fact that I should be exercising more. I have recently tried some new classes such as Insanity and Kettlebells, as well as trying to do more of the classes I enjoy, such as Circuits.
There have been times where I have forgotten to wear the tracker and then gone for long walks. Occasions like this are where I would have benefited from seeing the length of time I was active for and the number of steps I did. Overall though, the tracker serves simply as a reminder to exercise, rather than giving useful information about the energy used or heart rate, which I would personally find more useful with my fitness goals.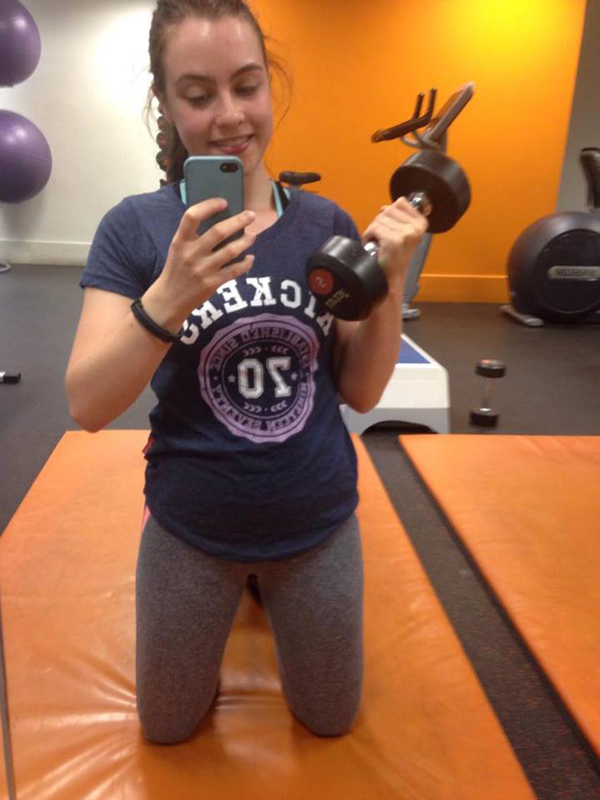 Buky testing out the Fitbit Flex
We have passed the half way mark and unfortunately my fondness of the tracker is rapidly decreasing.
I recently returned from a two week holiday abroad and although I wore the band on my wrist for the whole time, like many others I did minimal exercise whilst away. Although I took the tracker battery charger with me, I had completely forgotten to charge it. As there is no face or screen the Fitbit to remind me that the battery was low, unbeknownst to me the battery had died two or three days into the holiday.
Once charged, I continued to wear my tracker throughout the rest of the holiday- still with no exercise involved (unless waking from my hotel room to the beach/pool counts!). As you can imagine, checking the Fitbit app on my iPad for daily updates was the last thing on my mind whilst enjoying my travels and it was only when I arrived back home in London I thought to check on the very little movements I had made over the last two weeks. To my disappointment the tracker hadn't recorded any movements since my departure day at gatwick airport!
This was really surprising as I didn't know you had to sign into the app every day to sync your day's step count. I don't have the app downloaded on my phone, so going into my iPad everyday to check on my "progress" would have been a form of exercise in itself! I might as well have left my tracker at home!
If like me, you really need a push to workout (even whilst on holiday) I think this particular device may be a slight disappointment. I would have loved a little reminder every now and again to encourage me to do a few more steps to move closer to my daily goal, however because this Fitbit has a really nice comfortable fit, you can become so accustomed to wearing it as a daily accessory and completely forget its original purpose.
Now back at home and settled back into my live, work, life routine, like many others after a holiday I'm struggling to pick up a workout routine. Due to this sudden heatwave and all the sweating I'm doing, at times I'm convinced that the more I sweat, the closer I am to achieving my daily goal- without even needing to lift a finger (or foot)!
In reality I know that's not true - I only wish my fitbit could easily tell me that without me having to log into my app at the end of every day to step me back down to earth.