After selecting the individuals for our road test we then had the difficult task of finding the tracker that would best suit them. Read on to see the trackers we have supplied and the first impressions. We asked our road testers to feedback on how easy it was to set up and start using the fitness tracker. What wowed them from the start and what already annoys them! What goals have they set and how are they doing against these. We also requested an initial score out of 10.


Peter is working towards his goal of achieving a half marathon, we have provided him with the Withings Pulse Ox tracker, here are Peter's first impressions.


Withings seems to have established quite a following for its Pulse Ox and rightly so – it's an exceptionally compact, neat and well-designed device. My Pulse Ox arrived discharged so didn't switch on as the instructions suggested, but that was soon sorted.
Starting the unit, downloading the App and pairing it with my iPhone was quick and easy. I also downloaded two recommended third party companion Apps: Runkeeper and MyFitnessPal. I've stayed with the default objective of 10,000 steps per day but I'm not sure how meaningful measuring steps really is. I've just been on a very gentle walking holiday, and comfortably achieved the objective with 6-8 mile walks even though I barely broke into a sweat.
My standard weekly run is just over 4 miles – much better exercise, but it doesn't hit the steps goal. To prepare for the half-marathon, I'm going to try and do two runs a week. On one I'll try and gently increase the distance by say half a mile a week, and on the second I'll focus on improving my time. Ox Pulse uses an estimate of your stride length to gauge distance.
The figures it produces should be treated as an indication of the distance you've come rather than an accurate measurement. For example, on a recent run Pulse Ox showed as 8.9 km (5.5 miles) whilst Runkeeper and the iPhone GPS showed 4.25 miles. It does, however, provide a very quick and easy indication, so I can easily keep track and make sure that I more or less cover the distance I need to each run. For my timed run, I really do rely on the Runkeeper App, which provides voice feedback on my progress every five minutes on my run, allowing me to pace myself very easily.
Peter's initial summary is I'd give Pulse Ox five out of five in terms of being easy to set up and convenient to use, and five out of five for value for money. It does what it does very well, but it is relatively limited in its capabilities and a serious runner training for a marathon would probably want to invest more in a more capable device.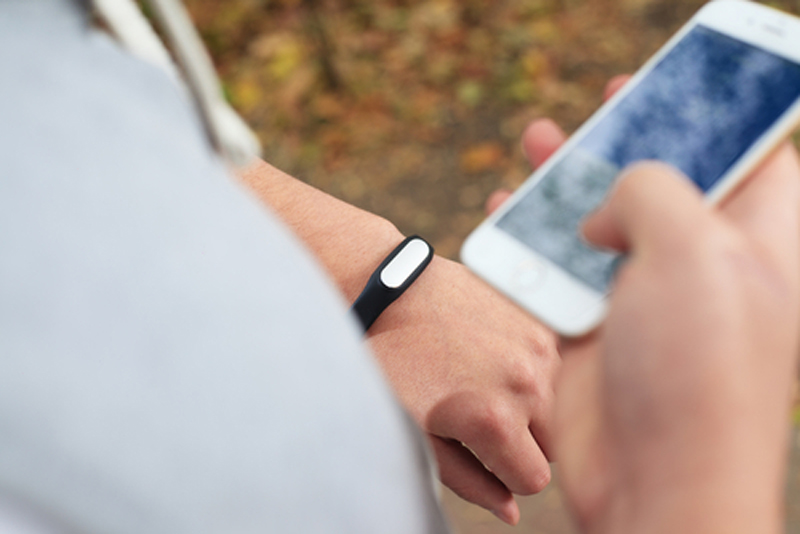 Keelan feels like his fitness regime has totally lost control in the last few years we are hoping trialling the Garmin Vivofit 2 will help him to get back on track.


I have been tasked with testing and reviewing the Garmin Vivofit 2 for the next six weeks. This is my first fitness tracker I have ever used. As such, my initial expectations are not set very high. It was very easy to set up the Vivofit 2 to get up and running. Or, more accurately, up and walking. The device has a 'Move Bar' that runs across the length of the display screen which gives you a gentle reminder if you have not been active for around an hour.
The design is very basic and arguably user friendly. The single button allows you to cycle through the data gathered by the device as well as beginning to record an exercise session. However, syncing the Vivofit 2 to my mobile phone proved to be difficult at times where it would lose connection. This is only a matter of patience though. I do not wear jewellery and the rubbery texture of the Vivofit 2 is proving rather unpleasant in the current humid climes of the South-east of England. This has resulted in me not wearing the device whilst I am not active. In an attempt to shift my excess and entirely unnecessary body fat, I have set myself an initial target of waking five miles a day.

So far, I have done this for two of the four days I have worn the device. So far, so good. The Vivofit 2 is user friendly and a good introduction to the fitness tracker world. I rate the device a 4 out of 5 for ease of use. Until next time, stay well.

Buky is not a big exercise fan, loves the idea of keeping fit but finds it challenging to do so, the Fitbit Flex is her tracker to test. Here are her first impressions.


Once out of the box, it was very straightforward to get going. Like many electrical products before its first use, the Fitbit was required to be charged. You have to have a phone, laptop, computer or tablet to start and continue using the tracker. Once the app was downloaded the instructions were very simplistic however there was only one downside I experienced, excessive tapping. Your pc/tablet/phone device is required to sync to your tracker via Bluetooth. In order for both devices to find each other, I was required to tap my tracker with my index finger until my iPad indicated a successful sync. I must have missed my finger tapping class in school, as I was still tapping 7 minutes later. Once the two devices found one another, all was well once again. The factory settings of the Fitbit automatically set your daily goal to 10,000 steps. When inputting your stats (height, weight, age etc) and setting preferences into the app, you have the freedom to adjust the daily goal to suit your own personal goals. Initially intimidated by all the zeros which appeared on my screen, I was tempted to knock a few off but decided to keep it at 10,000 as I later found out it equated to 5 miles. After a few weeks of using the tracker and meeting my daily goals, I decided to challenge myself and actually increase my daily goals by an additional 2500. Hopefully I don't look back on that decision with (corns and) regret over the coming weeks!


The tracker is relatively user friendly and aside from the tapping debacle, I would rate the initial set up a score of 3 out of 5.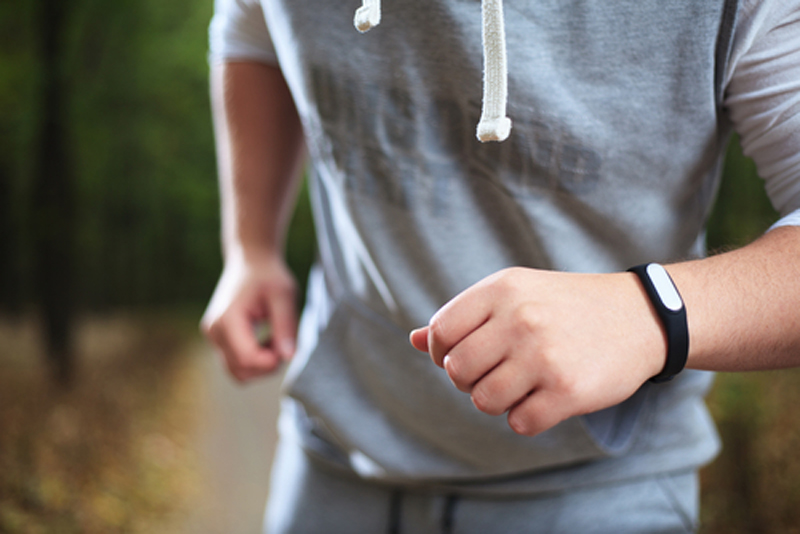 Emma wants to commit to regular exercise and is hoping a tracker will help her to commit, she is roadtesting the Jawbone UP2


When the Jawbone UP2 arrived, my first impression was that I liked the aethetic of it. It is simple and smart, but I did find it tricky to work out how to set it up initially. The app did have clear instructions which eventually helped me to work it out. I was surprised to find that it didn't track heart rate - only when I was moving around and when I wasn't. This is quite a let down as I am always keen to see how exercise is actually affecting my body compared to me guessing statistics to enter within the app. The app itself is pretty useless. I found that tracking activity was simple enough but foods were extremely difficult to track. On other apps I have used, there is the ability to put in foods from specific stores and restaurants, which is not possible with this app. It is tricky to choose the exact quantity as the slider movement means you can't choose an exact number, even if I have weighed out food. However, once I has synced the device with MyFitnessPal, it worked much better together. The main goal I have set myself is to go to the gym at least twice per week, so that I am exercising regularly. On top of this, I am trying to track my food intake as accurately as possible to give a fair representation of my health and fitness as a whole.


Overall, so far I would give it a 2/5 for "user-friendly-ness" as I have already faced problems with it that would stop me buying it and feeling satisfied using it on a day-to-day basis.

Jessica is keen to achieve a healthy fitness lifestyle and is trialing the Sony SmartBand 2.


My first thought when seeing my shiny new Sony SmartBand 2? Honestly? "Wow, that looks like a hospital wristband from The Future. Great, now everyone will be able to tell I'm a time-travelling patient-escapee from some twenty-second century locked ward." Admittedly, it doesn't help that I've got the antiseptic white version. Though, checking out the Sony website, it seems the tracker's only other colour option is black. So, I guess you can look like a) a runaway inpatient or b) a fugitive from a Martian penal colony.
Aesthetics are always subjective, I concede, so perhaps other users have less gut-deep dislike of the SmartBand styling. Your mileage may vary, etc. But this is not a tracker which could be mistaken for a bangle, watch, bracelet, or similar. My dislike for the SmartBand's appearance is compounded by the lack of display screen on the tracker wristband itself. To check in on your progress on steps, heartrate, and so on, you absolutely have to have your phone to hand. That means you can't check-in casually in the middle of a gym session or when pottering around the shops. So, for example, wearing the SmartBand hasn't yet lead to becoming more tuned-in to my fitness goals, and working on them actively as part of my daily routines. Because to do that, I have to remember to check the app on my phone.
Let's talk about the app. To set up the SmartBand, you have to download the SmartBand 2 SWR12 app to your device, Android or Apple. The app is free, easy to find in the relevant store, and simple enough to use. So far so good. Charge your SmartBand, pair it to your device, and hey presto – you're good to go. But to make the most of your tracker, you really need to download another piece of kit. The SWR12 app is basic, letting you see the minimum amount of data about your day. Indeed, a large message advises you to download the Big Sister app, Sony Lifelog. This is also a free, easily available app, but one which lets you visualise and crunch much more data about your fitness habits, and take things to the next level by participating in activity challenges. Seriously, you need the Lifelog app – and thus a (free) Lifelog account - if you have a SmartBand.
This is a bit of a let-down. I've also noticed my (Android) phone running noticeably slower since installing both apps, presumably because they both should continuously sync with the tracker. This is not good. Nor is the fact that I can't seem to dismiss the "Lifelogging is activated" notification on my phone come hell or high water. One of the big sells of the SmartBand is continuous heart rate monitoring. My SmartBand thinks I am a zombie. It registers steps just fine. If I fasten the band so tight to my wrist that I get red welts, then it sometimes reads my heartrate. But most of the time, whether uncomfortably fastened or not, the SmartBand utterly fails at monitoring my heartrate.
Nevertheless, I like the fact that the wristband itself has lots of notches, so those of almost all wrist shapes and sizes could probably use it. On top of the problems with heartrate monitoring, the SmartBand seems to have existential issues with connecting with my phone for any length of time, which is needed for the continuous logging/syncing of data. "SmartBand is disconnected", my phone wails, seemingly endlessly. After a bit of jiggery-pokery, all is fixed – momentarily. This all takes away from the goal of the tracker itself: fitting into the user's daily life seamlessly, helping her maximise her day in terms of fitness and wellbeing. I had intended to set a goal of 5,000 steps per day on the SmartBand. I haven't done it yet, because I've been too busy trying to convince the thing that I do, in fact, have a beating heart, and it can, in fact, play nicely with my phone. Somewhat helpfully, though, the tracker is automatically set to a 7,500 step-goal per day. Which is good?


I'd give it a 4/5 for user-friendliness in the set-up process but thus far, the SmartBand has been disappointing, to put it mildly. At this point, I am waiting to be impressed. We shall see if the SmartBand can redeem itself over the weeks ahead.