We realise that starting and sticking to an exercise programme is tough. Gyms are unfamiliar places and the equipment can look daunting at best. That is one of the reasons why we have introduced a brand new initiative within all of our gyms to offer a platform of education and experience in gym technique. Our brand new "Workshops' launch at all Fitness4Less gyms in the next few weeks. Here's is a handy rundown on how they can benefit you and 6 great reasons to get involved.
1 . Workshops Are Accessible To All.
The idea of the workshops are that they are pitched at beginners, not necessarily beginners to exercise but beginners to a new or slightly different technique. Everyone should feel welcome to attend, no matter your age ability or size. We are all definitely different, but we all have a common goal to feel better and improve our health, that is the factor that brings people together at a workshop.
Staff and members getting to grips with the Bosu Ball.
2. Workshops Are Short Bite Sized Sessions.
Workshops can be done even when your are very short of time, they are typically just 15 minutes long and will focus on technique and training tips for use of a particular piece of equipment or an exercise. The equipment may be gym based or functional, the exercises might be body weight based or with resistance. This enables you to focus clearly on getting that specific technique absolutely right and gives you a just a taster if you are nervous of commiting to a whole class session.
We have a library of over 35 different workshops which will be launched over the course of the year, some examples might include using a Bosu Ball, Kettle Bells, Battle Ropes or TRX, you can learn Lifting technique, Interval Training, Core Exercises, Stretching and many many more.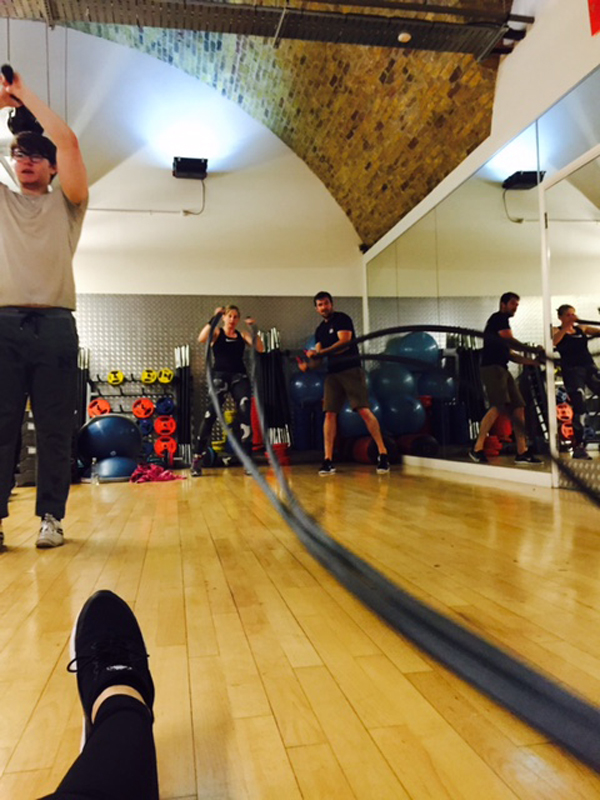 Trying out the battle ropes.
3. Workshops Are Confidence Building.
We are determined that all of our workshops will give you a little more confidence in introducing some of the techniques and tips into your own regular exercise routines. Workshops are small and informal in atmosphere and all of our trainers will be delighted to answer any questions you may have, just to ensure that you get the objective of each exercise and you understand the key teaching points.
4. Workshops Are Educational.
The more workshops you attend the more you will begin to understand which exercises are most effective and why. Technical descriptions such as 'engage your core' will become more familiar and you will begin to understand how best to correct your posture and get more connected to your own body's strength's and weaknesses. We believe it is a brilliant method to expand your knowledge base about exercise and will boost your own motivation to attend the gym or try out things learned, later on your own.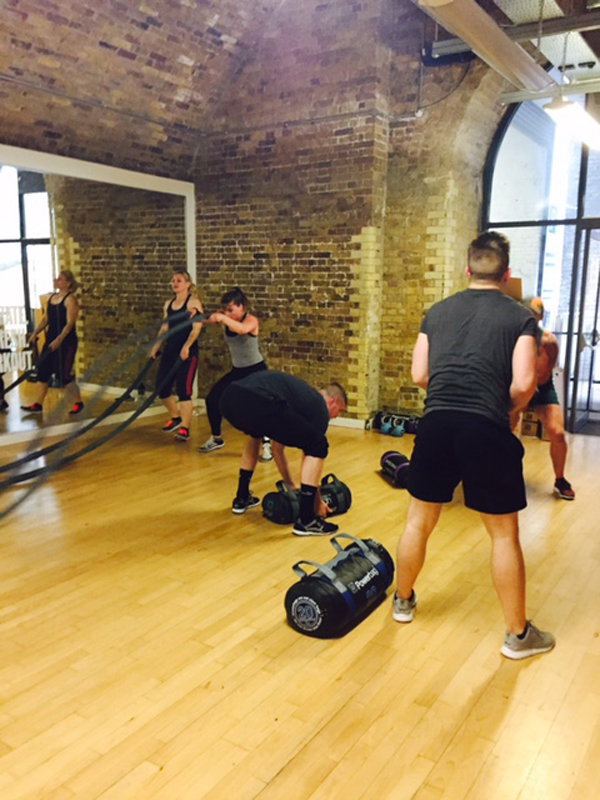 Trying out the power bags.
5. Workshops Are Good Fun.
We are aiming to make all of our workshops fun and engaging, more intimate than a full-blown group fitness class, you will have the opportunity to share the experience with other members as well as your trainer. You will find there are plenty of laughs and smiles to be had as you get to grips with all of the new ideas.
6. Workshops Test And Change The Way You Exercise Your Body.
Scientifically speaking, if you tend to migrate to the same routine or the same piece of equipment, each time you exercise, your body does get used to that very quickly and then it typically will 'plateau'. Exercise plateau means that you make initial improvements but then you basically stay the same and don't progress towards your goal, it's a really common problem and one that means that dozens of us drop out of exercise. One of the key ways to avoid this happening is to bring new challenges to your routine, to keep your mind and body tested. You will get better results and find new motivation, a win win. You just need to be willing to open your mind to some new ideas and give things a go.
So, just to recap. Workshops will be available at all of our gyms. You can find out about them on our website by clicking the following link to our class timetable,
http://www.fitness4less.co.uk/classes/
workshops are clearly identified and described here and if you log into your member area they can be booked online. You will also find a workshop notice board within the gym, which will be advertising the coming workshops for that venue.