My interest in cycling started from talking to my uncle, who cycled to work regularly on his commute from Clapham to Southwark. He talked about the feeling of freedom on a bike, and the joy of being able to complete a journey 'under your own steam' that would otherwise have only been possible by car or public transport. This coincided with Bradley Wiggins winning the Tour de France in 2012, the first British winner in the history of the race; and a few weeks later, the sight of the best cyclists from around the world racing on the streets of London for the Olympic Road Race and Time Trial. The success of Team GB in our own Olympics, coupled with the thousands of Union Jacks on the streets of London was very inspiring!
The following year, I cycled from London to Paris, arriving in Paris to watch the finish of the 100th Tour de France. I felt as if I had been on a proper journey, but the 4 days it took me was nothing compared to the 3 weeks it had taken for the 196 riders to ride around the most gruelling roads and terrain France has to offer!
Since then, I have done the Fred Whitton Challenge, a 112 mile cycle ride over the main mountain passes in the Lake District; as well as the Coast to Coast, 150 miles from Whitehaven in Cumbria to Whitby in East Yorkshire. The Coast to Coast was done in 1 day across the Lake District, the Yorkshire Dales and the North York Moors.
I genuinely love the benefits cycling brings, but perhaps I can convince you of the same!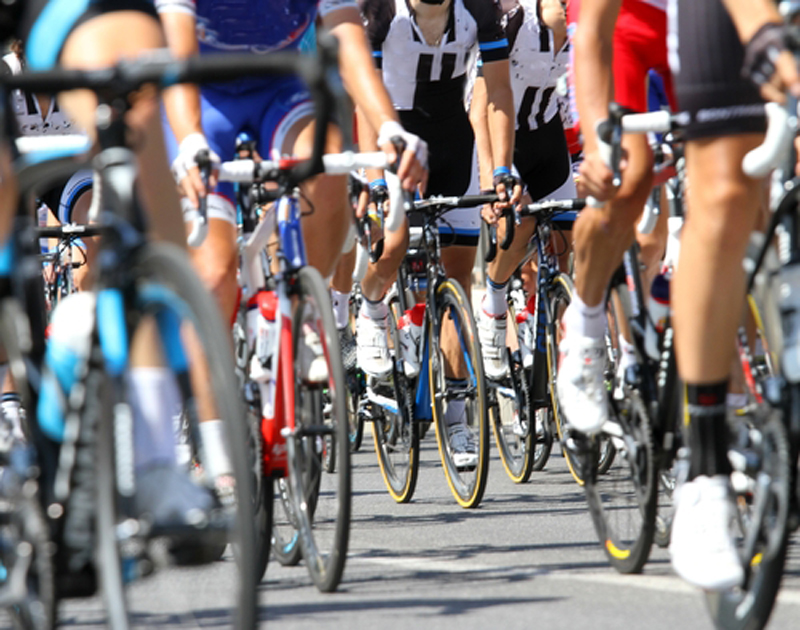 The benefits of cycling
Cycling is a great cardiovascular exercise and can be done regularly as part of a balanced training plan. There is virtually no impact on the joints, a problem faced by runners who do most of their training on the road. By incorporating cycling into your training, you are increasing the variety of your workouts, which will promote recovery and contribute to a well-rounded fitness programme. As an aside to this, the more variety you get in your training, the more muscle fibres you will recruit and the lower the risk of injury through repetitive strain or overuse injuries.
Cycling develops strength in the quadriceps (thighs) and hip flexors (top of the thighs), which can transfer well to running and other acts of daily living, such as walking up stairs, standing up, etc. For runners, it can improve your strength when running up hill and develop fatigue resistance. In terms of cardiovascular benefits, regular cycling will improve the cardiac output of the heart, improve the efficiency of the heart and lungs at various levels of intensity and contribute to a lower resting heart rate.
Modern bikes are often made using strong, lightweight carbon fibre and can feature upwards of 20 gears. Some bikes even use electronic switches wired to motors instead of more conventional mechanical levers and cables! While these bikes are fast and relatively effortless to ride at speed, the best bike specific training can be done with 1 gear, no brakes and a fixed rear wheel (that is, the pedals are directly linked to the rear wheel so as long as the wheels are turning, so are the pedals!). These types of bikes are the ones ridden in track cycling in the velodrome, but spin bikes are also fixed, so provide a great workout if you can't get to a velodrome!
Whether you're a new or experienced cyclist, gym based training will complement your on-road experience. This bike specific fitness programme will help to improve your cycling fitness and make outdoor cycling a little easier.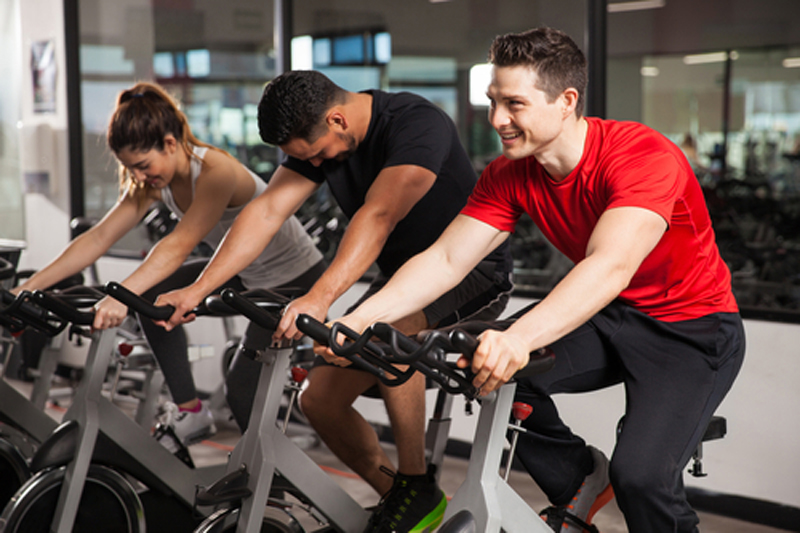 Cycling training planWorkout 1Workout time 20 minutes Frequency once per week
Most people pedal slowly with too high a gear when they start cycling. It is much easier and more efficient to drop the gear down so that you can pedal at around 90 revolutions per minute (RPM). It will also help you to go faster and will improve your power up hills. Use an indoor exercise bike which will display your RPM and follow the programme below. Select a resistance level that enables you to reach the target RPM whilst remaining under control and keeping the upper body still, i.e. not bouncing in the saddle.
5 minutes 90 RPM
2 minutes 95 RPM
2 minutes 100 RPM
2 minutes 105 RPM
1 minute 30 seconds 110 RPM
30 seconds 120-130 RPM
2 minutes 90 RPM
6 seconds MAX SPEED
1 minute 90 RPM
6 seconds MAX SPEED
1 minute 90 RPM
6 seconds MAX SPEED
2 minutes 42 seconds 90 RPM
Workout 2Workout time 30 minutes Frequency Once per week
Interval training is a great way to improve cycling fitness and strength and the indoor bike lends itself well to this type of training. This session will improve the strength of cycling muscles, increasing the amount of power that you can put through the pedals when out on the road. This session can be progressed after a few weeks by increasing the interval time to 5 minutes and/or increasing the number of intervals to improve endurance and develop fatigue resistance. Select a resistance on the exercise bike that puts you in the target RPM, i.e. 70-75 RPM on the intervals and 90 RPM+ in between. Don't be afraid to increase the level next time and as your fitness improves.
5 minutes easy pedalling at 90 RPM
THEN
4 x 3 minutes hill climbing aiming for 70-75 RPM
2 minutes recovery at 90 RPM+ in between each interval
THEN
An extended recovery after the fourth interval of 3-5 minutes at 90 RPM+
Look out for a follow up programme in July which will progress you on from this!
Alex works for the Fitness4Less Group at the Topnotch Colchester club. When he's not out on his bike, he's in the gym teaching spin classes and training with clients! He loves all things to do with cycling, but is also passionate about using strength training, running and yoga to develop all round fitness. Contact Alex via our web site http://www.topnotchhealthclubs.com/training/colchester/249/for advice on cycling specific training or for ideas on how to use different forms of exercise, not just to improve cycling, but for overall conditioning and injury prevention.