Salads can definitely work for you in the winter, and this one is a delicious flavour-packed treat. It's yummy warm or cold, so save any leftovers and then pack a portion into a Tupperware container for the next day. Not only is it a delicious and satisfying salad, but it's also packed with slow-release energy, which will leave you feeling fuller for longer - result!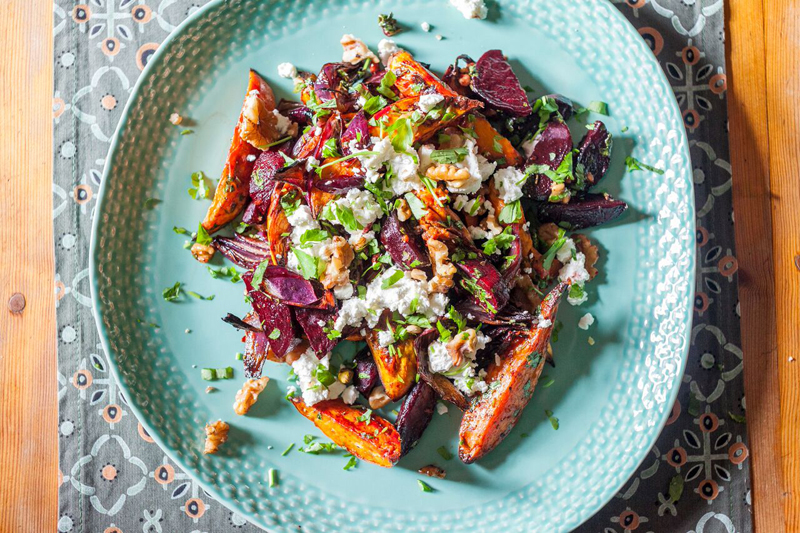 Serves 2
Prep time 10 minutes
Cooking time 30 minutes
Ingredients
2-3 medium sized sweet potatoes
3 raw beetroot
2 red onion
Sea salt and black pepper
A small handful coriander, chopped
100g walnuts
2 tbsp extra virgin olive oil
2 tbsp balsamic vinegar
Juice of half a lemon
125g crumbly goats cheese, crumbled!
Method
•Preheat the oven to 200°c/fan 180°/gas mark 6.
•Peel the sweet potato and beetroot and cut into similar sized wedges (about 6 wedges per piece). Then peel the onion and cut into wedges as well - around 8 pieces per onion.
•Throw all of these into a shallow roasting tin then spray with a little oil - 1 Cal Spray or similar can be used. Season well and then toss everything together, put into the oven and roast for 30 minutes.
•Meanwhile chop the coriander and nuts and crumble the cheese into bite-sized chunks.
•Once the vegetables are cooked, stir through the coriander, walnuts, oil, vinegar, and lemon juice then tip onto a serving plate.
•Scatter with the cheese and extra nuts and coriander if you like.
Eat as a warm salad or next day. This recipe is really great packed into a lunch box.
Ring the changes with different herbs, like parsley or tarragon and swap the cheese for your favourite, like blue cheese or feta.