!— Facebook Pixel Code —> <!— DO NOT MODIFY —> <!— End Facebook Pixel Code —>
<< back to blog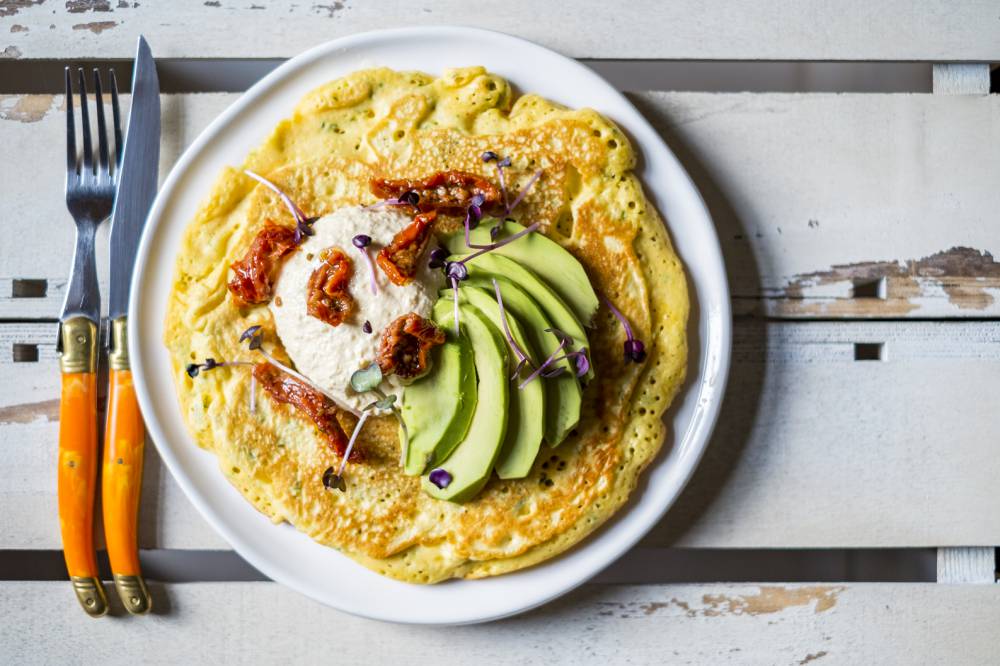 Chickpea Pancake With Avocado And Sundried Tomatoes
Pancake Day falls on February 13th this year and here's an unusual recipe for you to try - yes, this is a pancake! It is sugar free, but that does not mean it is not still delicious. Try it as a healthy lunch or supper dish, as the avocado and sundried tomato topping delivers antioxidants, good fats and omega 3.
Serves 2.
Prep time 10 minutes.Cooking time 10 minutes.
For the pancake


100g gram flour(chickpea flour - available from most supermarkets)
1 tbsp peanut butter
125ml skimmed milk
1 small egg
1/4 tsp baking powder
A pinch of chilli flakes
1 tbsp chopped coriander
1 tbsp chopped parsley
1/2 tsp ground cumin

To serve

1/2 avocado, peeled and sliced
25g roasted or sundried cherry tomatoes
1 tbsp hummus
Micro herbs
To make the pancake, whisk together all of the ingredients. Leave to stand whilst you warm a non stick pan around 22cm in diameter. Spray with a little oil if you wish.
Pour half of the batter in to the pan and let it set and sizzle. Just lift the edge to see if it has browned, then gently flip it over using a palette knife. Cook for another few minutes.
Slide the pancake on to a plate, top with the avocado, tomatoes and hummus then scatter with the herbs.