As evidenced by the popularity of the recent World Cycling Championships in Harrogate, and the success of athletes like Sir Bradley Wiggins, Chris Froome, Geraint Thomas and Victoria Pendleton, British cycling is having a moment. Every weekend and on most weekdays, our roads are thronged with enthusiastic cyclists with expensive bikes, performance clothing, specialised footwear and streamlined helmets. There's no doubt about it – cycling is a fantastic way of getting fit. It raises your metabolic rate, builds muscle and burns fat. But there are a few drawbacks to cycling out of doors - the cost of a decent bike, narrow, winding country roads, heavy traffic, air pollution and the great British weather, being among them.
So, cycling on a stationary bike in a nice warm gym, as the dark, cold days of winter bite, has its attractions, especially as you can now enjoy a virtual ride through a variety of imaginary landscapes and terrains, from mountain ranges to beaches, without enduring the chilly winds and rain of the great outdoors. You can also enjoy the fun and competitive spirit of working out with a bunch of fellow riders in a spin class, with no danger of falling off your bike or crashing into one another. And you don't even have to wear a helmet! Some of the other benefits of spinning include: -
A full body workout that utilises all major muscle groups and that improves your muscle definition
A speedier metabolism, that continues for some time after you stop exercising
Weight loss – you can burn up to 600 calories in a vigorous spin circuit class
A boost to your energy
Cardiovascular fitness, which benefits your heart and lungs
Stress reduction as those happy hormones are released
A low risk of injury
Top-quality professional spin bikes are provided by your gym and classes are free as part of your membership, so spinning is very cost-effective
Spinning is gentle on the joints, compared with pounding the pavement or treadmill.
You can adjust the spin bike's resistance levels to challenge your speed and endurance
The flashing lights and pumping music in some spin classes and an enthusiastic instructor setting the pace, fire your enthusiasm and energy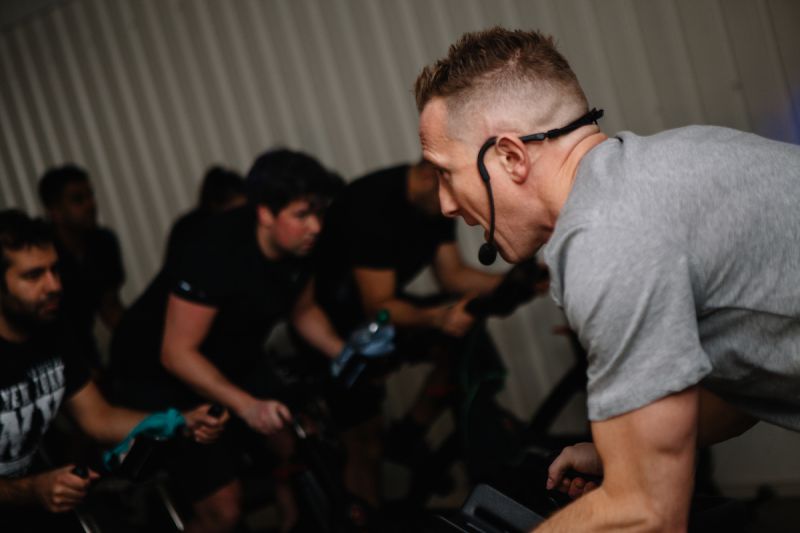 If you're just starting out as a
beginner spinner
, these are a few things to remember, so that you work out safely: -
Arrive early to make sure that your bike is set up correctly to account for your height and physique and that it's comfortable. Ask the instructor for help with this.The saddle should be level with your hip-bone when you're standing alongside the bike and when sitting in the saddle, your knees should be slightly bent at the bottom of the pedal stroke. Also, make sure the bike's handlebars are positioned correctly, so your knees are not too close or too far away from them when you're pedalling.
After a few sessions, if you decide that spinning is definitely for you, invest in some padded cycling shorts, so you don't get saddle-sore.
Wear the correct trainers or cycling shoes – ask your instructor for advice if in doubt – and make sure your feet are secured correctly in the pedal straps.
Wear breathable and moisture-wicking clothing.
Make sure you are properly hydrated and carry a water bottle – even in an air-conditioned studio, you can get very hot and sweaty.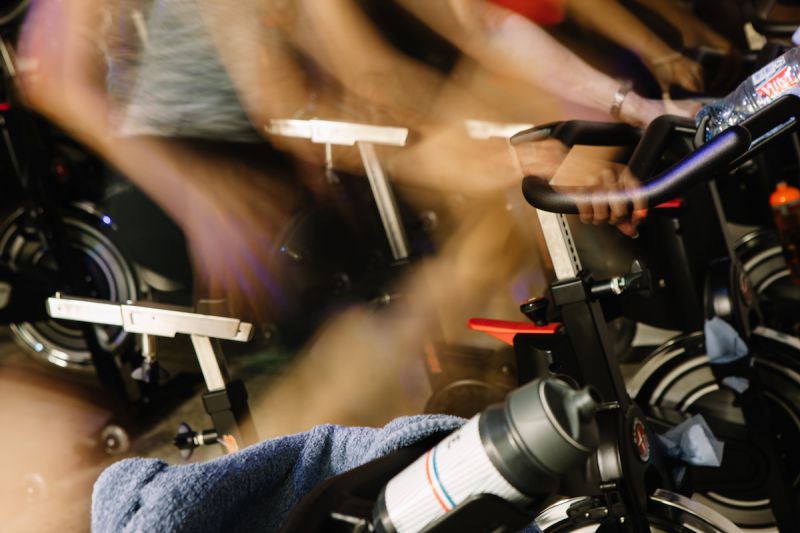 Bring a towel, for the same reason.
Do a five-minute warm up to prepare yourself in advance of the class.
Choose a bike where you have a good view of the instructor.
Start slowly, pace yourself and don't be afraid to take a break. No-one will judge you, if you can't keep up. The lights are usually dim in a class and other participants are too focused on their own workout to notice you.
Don't grip the handlebars too tightly, and relax your shoulders; focus on powering your ride with your legs.
And whether you're a hard-core, experienced spinner or a complete novice, enjoy the endorphin rush and have fun!