Making fitness accessible is hugely important to us. Having access to support and fitness resources is crucial to keep up a regular workout routine and to help you feel motivated and inspired to move your body. Sometimes it's difficult to find the time to go to the gym, or maybe you're travelling and have no time to find somewhere to workout. So how can we help support you with fitness resources no matter where you are?
Introducing our NEW Virtual Studio - Live and Interactive Fitness Classes On Our App,
Powered by Move GB
We are delighted to bring all our members' FREE access to convenient and interactive fitness right from your smartphone.
What Are The Benefits?
- NEW and improved live online class timetable
- Convenient and easily accessible wherever you are
- Fun and interactive sessions with instructor Q&A time at the end of each class
- Workout with your favourite instructors from our gyms
- Get access to exclusive On-Demand fitness classes for FREE
What Classes To Expect

Here is a sneak peek into our first week of Virtual Studio classes (7th-13th February 2022). The timetable will be regularly updated with fresh content for you to enjoy -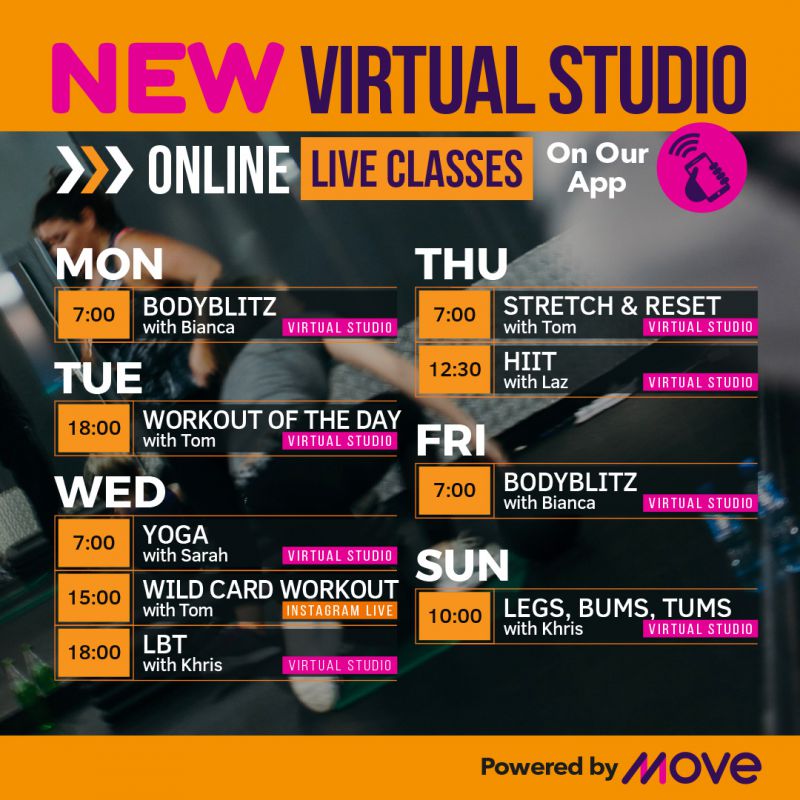 How To Get Started
• Download our Mobile App on the
App Store
or
Google Play
• Login with your Member Details & tap the Virtual Studio promotion on the Home Page to head to our Online Fitness Partner, Move GB
• Tap SIGN UP at the top and enter your details to get set started
• You're in!
Enjoy FREE access to our dynamic timetable of live and interactive online classes and workshops with your favourite fitness instructors from Fitness4Less, plus exclusive On-Demand classes at your disposal
Alternatively, you can also Sign Up directly on our exclusive Move GB platform here:
CLICK HERE TO JOIN OUR VIRTUAL STUDIO