Mark Borer is a member at the Fitness4Less Northampton gym and he faces a physical challenge that most of us would find unimaginably difficult to overcome. In September 2017 Mark underwent an operation to amputate one of his legs below the knee. As part of his recovery, just four months later he started attending the gym and working with personal trainer, Ellis Mason, to strengthen his upper body to enable him to walk with a prosthetic leg.
Sadly, in May 2018, Mark had to undergo another operation to amputate his other leg above the knee, which meant a two-month recovery period when he was unable to go to the gym. Undaunted, as soon as he was able, Mark resumed his training with Ellis, seeing this not as a setback but as a challenge to get super fit, so that he could walk again with his two new prosthetic limbs. Ellis has been key in setting goals for Mark and encouraging him to reach and even exceed them.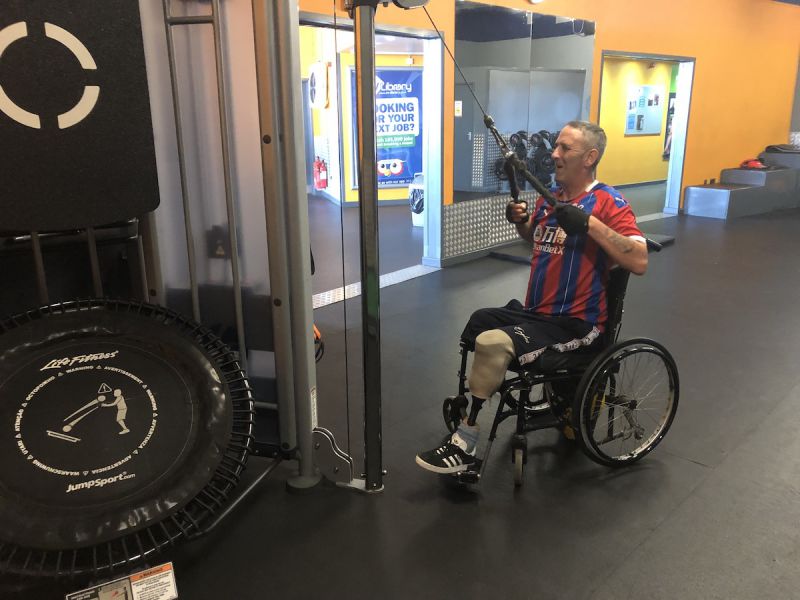 Mark now never misses a day at the gym and says, "Fitness4Less has made me much stronger both in body and mind." He finds the gym's staff and other members friendly, helpful and sympathetic in supporting his determined fight to regain his independence and become more mobile.
To help him with this endeavor, Fitness4Less Northampton in conjunction with its associated charity, Friends of Fitness, is installing some parallel bars at the gym, to enable Mark to do some therapeutic exercises to improve his balance, help him to achieve optimal weight bearing and give him more confidence in performing everyday tasks.
Friends of Fitness is an independent community benefit society, which supports individuals that need help to develop life skills through exercise. The charity has already provided sponsorship for numerous deserving individuals, from a young para-equestrian with cerebral palsy to an injured serviceman, who competed in the 2017 Invictus Games, promoted by Prince Harry.
Club Manager, Dan Hill, says " Mark is an inspiration to us all at Fitness4Less Northampton and a very well-liked and respected member at the gym. His determination to overcome adversity and to make the most of his life is humbling and we are very pleased to be able to help him in any way we can."