Dive into our fantastic Fitness4Less gym, located within the Sol Centre Shopping and Leisure Complex. As it is conveniently situated in the centre of town, 5 minutes from the train station and with 3 hours free parking available on site, members can choose to combine a workout with a spot of shopping, a trip to the cinema or a meal out.
Having opened in July 2012, the gym boasts a 15m swimming pool, spa, sauna and steam room. There's also a large, well-equipped mixed gym area with treadmills, cross trainers, bikes and rowers, three airy studios, including a dedicated spin studio with stationary bikes, and generous zones dedicated to stretching, functional training, boxing and free weights. A separate Ladies Only gym with private access to the ladies' changing rooms, caters for women who would prefer some privacy while exercising, for cultural reasons or to allow them to build their confidence and self esteem.
Currently one of the most affordable gyms in town, with memberships from just £22.99 per month, the club offers exceptional value. Over 50 free instructor-led fitness workshops and classes from Apex to Zumba are included in the membership fee, to boost members' motivation and add variety to their workouts.
Fitness4Less Northampton's friendly and dedicated team prides itself on providing excellent customer service and on its interaction with club members, investing time and care in making them feel relaxed, helping them to exercise safely and effectively and encouraging them to achieve their fitness goals. A team of well-qualified and talented professional trainers is also available for members that would like to invest a little extra in one-to-one training, and a half-hour taster session with a PT is offered free to each new joiner.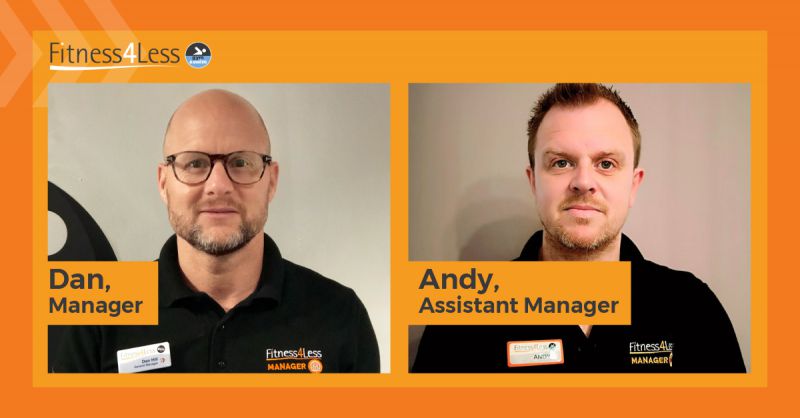 The club's General Manager, Dan Hill, has worked in the fitness industry for 27 years, working his way up from an apprentice leisure attendant in an hotel to his current position, which he has held since 2005. Outside work he's an avid runner and has competed in numerous Marathons and Ultra Marathons. He also has an interest in music and has previously performed as a DJ in clubs all around the world. He says he loves his job because, "Fitness is one of those industries where we can make a real difference to people's lives, and I've experienced so many success stories over the years, which is extremely rewarding and gives me great job satisfaction."
Dan is ably assisted by Andy Biseker, who joined Fitness4Less in 2008 with a real passion for fitness. He says, "Fitness4Less has given me a huge amount of support, and I have always been pushed to achieve my best, first as a gym instructor, then as a personal trainer. Over the years I have worked my way up to become Deputy Manager and have seen the club grow. What I love about the gym is the freedom we are given and the fact that our input is very much encouraged. Being such a close-knit community, staff get useful feedback from members, which influences our decision making, so the club is always moving forward and improving."
Last year's Fitness4Less Northampton Member of the Year, Jeff Mason, sums up the impact that membership of this vibrant gym can have on its members. Having suffered a serious illness a couple of years ago, Jeff credits the gym with making an important contribution to his recovery. He says, "2018 was a great year for me as I finally regained the fitness and strength I lost during my illness. I posted my best Marathon time for 5 years, ran the 5km Parkrun in under 22 minutes and got my weight back up to 11 st. I'm a regular at the Fitness4Less spin classes, do a core class every Thursday and have a go at a few of the Apex classes too. Fitness4Less has played a massive part in my recovery and long may it continue. Thanks to everyone there."
CLICK HERE TO JOIN TODAY!