From
25th – 27th January
, Fitness4Less is holding an
Open Weekend
to encourage our members' friends and families to come along to the gym and see how they could make those well-intentioned New Year resolutions to lose weight or get fit (which may have fallen by the wayside!) into a reality.
We aim to offer members and their guests ways in which they can
refresh
and
revitalise
their fitness routine, whilst finding time to
relax
too, in line with our current inspirational campaign.
Anyone that is curious about what gym membership might entail is welcome to come and try out our facilities and join in the various activities that our clubs are organising over those three days, free of charge.
These are some of the things that individual clubs are planning, to demonstrate that joining a gym needn't be scary and that our friendly staff are committed to sticking by our members all the way, giving them invaluable advice and support to ensure they achieve their fitness goals. So, pop in and see your local vibrant Fitness4Less club in action, try a class*, tour the facilities and have a free workout, swim*, sauna* or steam*.
*where space, availability and individual clubs' facilities allow
Fitness4Less Bristol
Relax
and join in a Full Body Stretch class
Friday 25th Jan. 12.30 – 1.15
Saturday 26th & Sunday 27th 9.30 – 10.15
Refresh
with a yoga class
Friday 7.30 – 8.15
Or a Pilates class
Friday 5.30 – 6.30
Revitalise
– try Functional Training, including using the club's new Prowler Sled
Throughout the weekend, on request.
Fitness4Less Canning Town

Come and see our fantastic, newly-refurbished club, which guests can try for free. Tour the facilities and have a free workout or try out the brand new Ladies' or Men's saunas.
Fitness4Less Cambridge Heath

A chance to try some of the protein shakes and bars the club offers.
A freepiece of fruit for members.
Taster classes - in addition to the normal class timetable.
One-to-one taster sessions with our fantastic professional personal trainers.
Fitness testing.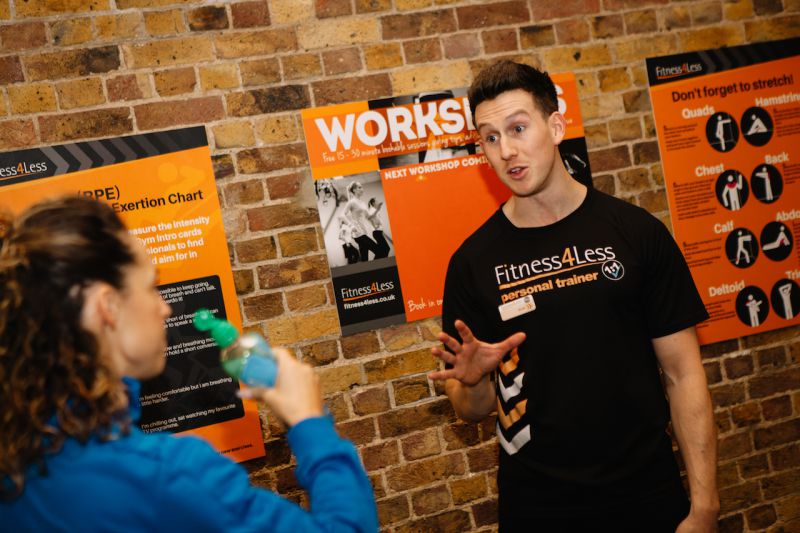 Fitness4Less Colchester

The club will be split into Zones, offering the following: -
Refresh Zone

Refresh your training sessions
Meet our personal trainers
Consultations
Workshops
Revitalise Zone

PNF (Proprioceptive Neuromuscular Facilitation) Stretching to improve flexibility.
Free 15 minute free trials of Cyclo Ssage therapy - a full body therapeutic massage with infrared heat by our in-house osteopath.
Lucozade samples.
Relax

Pure stretch class.
Yoga class.
Fitness4Less New Malden

Throughout the Open Weekend, guests can try the gym and classes, subject to availability, free of charge.
Also, the club's personal trainers will be offering advice, answering questions and doing demonstrations to help you
Revitalise, Refresh and Relax
, and there'll be small taster classes on the gym floor.
Fitness4Less Northampton
Relax
With a yoga class on Friday 25th at 7pm
Or with a Pilates class on Saturday 26th at 9am
Or an Apex Release Class at 11am
In addition, all the club's personal trainers will be available on shift, offering the following: -
To
Relax
you - free stretching routines.
To
Revitalise
you - alternative exercise advice.
To
Refresh
you - free updates on members' exercise programmes.
Fitness4Less Southwark

Throughout the Open Weekend, guests can try the gym and classes, subject to availability, free of charge.
In addition, on Friday 25th January- the club is running a Corporate Open Day with:-
A free day pass for employees of local businesses.
Nibbles and refreshments.
Trainers on hand with exercise tips and advice.
Fitness4Less Sutton

Virtual Spin classes will be running at 15 minutes past every hour from 6:15am to 8:15pm for members and guests to try (times of each class vary in duration; please check the website for more info).
Healthy Food Station will be located at Reception over all three days.
Fitness challenges will be on offer.
Freebies will be available from Nutrivend and local partnership businesses.
Beauty By Erinda will be offering taster treaments and discounts.
Personal trainer, Jake Weekes, will be conducting a seminar about the benefits of healthy eating and exercise in the Spin Studio.
Friday 25th January:-
9.15am Tabata
11am Boxing Circuits
12 noon Combat HIIT
6.30pm Circuits
7.00pm HIIT
Saturday 26th January: -
8.15am Circuits
9.15am Hard-Kore
10.00am Kettlebells
12.30 Circuits
Sunday 27th January:-
8.15am HIIT
12.30pm Circuits
1.00pmCore
4.45 Tabata
Fitness4Less Watford
The focus on
Friday 25th
is
Revitalise
with the following classes, free to members and non-members alike: -
7am Intensity
9.45am Spin
10.30am Core On The Floor
12.30pm Apex Ignite
On
Saturday 26th
, the emphasis is on
Refresh
with the following classes: -
9.30am Metafit
10.15am Spin
On
Sunday 27th
, we give you a chance to
Relax
with these classes:-
8.30am JFITT
11am Pilates
12.15 Circuits
Fitness4Less Worcester
Come and see our stylish club, try a class*, tour the fantastic facilities and enjoy a free workout, swim, sauna or steam.
*where space and availability allow .
So, if you know someone that would like to embark on the task of realising their good intentions to improve their health and wellbeing, please encourage them to join in the fun at their nearest Fitness4Less club between 25th and 27th January, inclusive. If they decide to join up, they'll be sure to have a blast, boost their motivation, make friends and get a whole new positive spin on life in other words,
Revitalise
,
Refresh
and
Relax!