Ilse Taylor Owen is a young para-equestrian and a member of the British Equestrian Federation Excel Talent Development Squad, part of a Sport England programme funded by The National Lottery. Ilse is a para-equestrian dressage rider and has hemiplegic cerebral palsy, a condition which affects her strength, feeling and motor skills on her right side, as well as her overall balance.
Fitness4Less has supported Ilse's development since 2016, thanks to the sponsorship of our charity, Friends of Fitness. Ilse is committed to Paralympic success and while riding four times a week, she develops her core strength and conditioning at Fitness4Less Chesham, under the expert guidance of experienced gym manager, Iain Duncan.
BEF Equestrian Pathway Director, David Hamer, reflected that sponsorship and support from organisations such as Friends of Fitness and Fitness4Less is essential to level the playing field, and he said of Ilse's progress, "Ilse has been a member for the last three years of the British Equestrian Federation Excel Talent Programme, which identifies, supports and develops athletes that demonstrate the potential to progress to our Podium Potential programme. During this time Ilse has demonstrated to us that she is a committed athlete, who definitely has her sights set on progressing to the elite performance level in the future"
Her hard work and dedication, both in riding and in training at Fitness4Less, is delivering results. In 2017 Ilse was selected to represent the Central Region at the Home Para International contest and also qualified to compete and was placed at both winter and summer national competitions at Silver level. She also qualified to represent Great Britain for the first time at the Bishop Burton 2* (silver) International, where she was the youngest rider competing and the only rider under 16 to compete at 2*. Squad mentor and Olympic rider, Tanya Larrigan, said of Ilse's progress, "In this her second term on the Excel Para Equestrian Programme, Ilse is proving to be a confident and determined young lady, who is progressing in all aspects with well-set riding goals".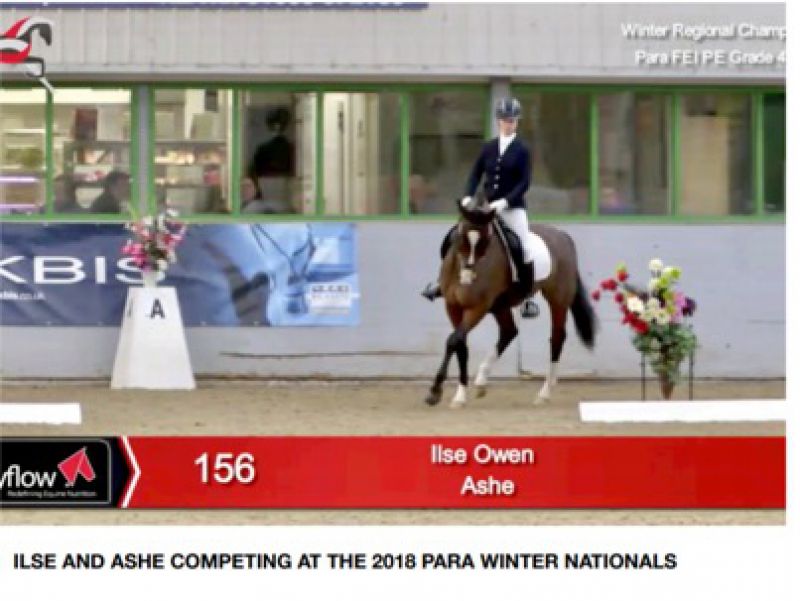 Her 2017 success led to Ilse's re-selection for the 2017-19 Excel Programme, where she remains the youngest selected para-equestrian, and she has moved up to qualify and compete at this year's Winter National Gold Class, competing the paralympic level dressage tests. Ilse has just been informed that she has again qualified to represent GBR at this year's international competition at Bishop Burton and is just waiting confirmation of selection - so fingers crossed….
You can follow Ilse's development on Facebook and Twitter by following @IlseDressage or visiting her website and blog at ilsedressage.com.
If you know a young person with sporting potential, who would benefit from the facilities and training our charity Friends of Fitness can offer, with no official sponsorship in place, then get in touch. You can nominate
here