After a great workout, most of us are looking for quick and easy - but also healthy - meals to eat.

It is crucial to re-fuel after a workout, whether you're exercising early in the morning or in the evening. Consuming the right nutrients after your workout is just as important as what you eat before you start. So we asked our Personal Trainers - Darrian, Ellis and Reece - what their favourite post - workout fix was.

These quick and easy dishes; they certainly look yummy and they have some great nutritional benefits!
Salmon & Sweet Potato - DARRIAN
Darrian says 'I love this really simple dish, because it's easy to make. Salmon can be bought in any supermarket and just seasoned and placed in the oven on a baking tray for 10-15mins. It is a good source of protein and also provides the body with essential fatty acids such as Omega 3. The sweet potatoes can just be baked in the oven like you would a traditional jacket potato. They provide a good mixture of slow release and quick release carbohydrates, helping you refill your carb stores and giving you energy until your next meal. They also provide a good serving of vitamin C and potassium.'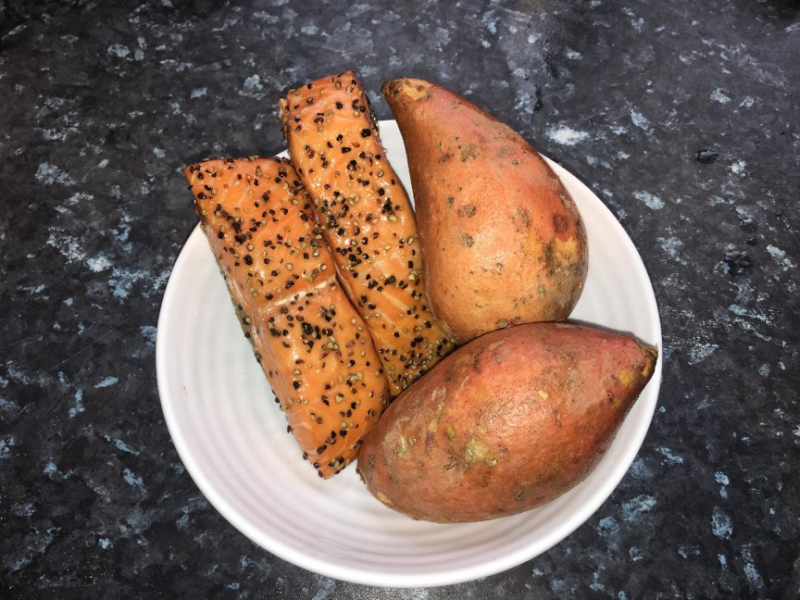 Grilled Chicken and Spice - Infused Couscous - ELLIS
Ellis says 'I love this quick and easy spicy dish. Chicken is a lean source of protein, which will aid protein synthesis in the muscles. It can be marinated in a pre-bought spicy sauce (or you can make your own spicy rub) and placed under the grill, rather than cooking it in oil. The Couscous only takes 10 minutes to make by adding double the amount of boiling water (or stock) to the couscous and leaving it to swell in a bowl with some clingfilm over the top. You can then just fluff it up with a fork and add whatever you like; herbs or pine nuts are tasty. Cous Cous provides a good mixture of fast release and slow release carbohydrates, which will help improve your recovery rate.'
Chicken Pasta with Vegetables - REECE
Reece says 'Pasta is so versatile! It is quick, easy to cook and cheap. With this dish, chicken pieces are grilled. Chicken is a great lean source of protein, which will aid protein synthesis in the muscles. The pasta is cooked in boiling water for 10 minutes and provides a good mixture of slow release and quick release carbohydrates, helping you refill your carb stores - giving you energy until your next meal. You can quickly stir fry any vegetables you like with a little oil to go in this dish. I like to add onions, garlic, herbs, peppers, mushrooms and broccoli. I then just add a small amount of tinned tomatoes, just to coat everything. The added vegetables will help replenish any vitamins and minerals you have lost through sweating.'