Following the Government's announcement on Friday 20th March, we have closed our gyms. This is in line with the new directive announced by the Prime Minister and is supporting the national effort to suppress the spread of COVID-19 and put the health of our members and staff as our priority.
We want to reward your loyalty We are hoping that the closure will be for a relatively short period and that we will be able to offer you our full range of services in the not too distant future. However, in the short term we are appealing to you to leave your membership live with us so that we can continue to keep the business viable and support our employees.
If you are in a position to do this we have put together the following package of Loyalty Rewards for you.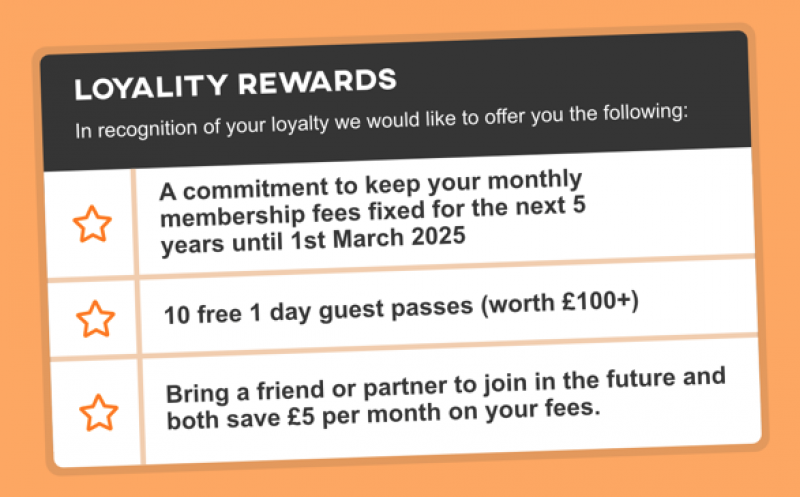 In addition we have already started a programme of supportive, motivational and personal services to help you continue that feeling of our gym community at home, keep active, and keep mentally and physically well. We have called this our Health & Fitness at Home Package.
If you are unable to keep up with your payments, we can offer you the option to freeze your membership at no cost and still enjoy the Health & Fitness At Home Services. Your membership will then be ready to activate again as soon as you are. If we are forced to close our gyms longer than one month, processes are in place to automatically freeze your membership for the future and you will not need to take any further action.
If you need to freeze your membership immediately, please use the following link to place your request, however if you have already made a request to freeze your membership, we are already working on this for you.
Please freeze my membership immediately
Please ensure you follow us on Facebook or Instagram to keep up to date with all club developments and download our new APP to enjoy fantastic extra health and fitness material to support your ongoing wellbeing.
Keep safe and well,
Best wishes
The Fitness4less team